The Kjøllefjord Church (Norwegian: Kjøllefjord kirke) is a parish church in Lebesby Municipality in Finnmark county, Norway. It is located in the village of Kjøllefjord situated far north of the Arctic Circle, at a latitude of 70° north.

The new white stone church was built after World War II, it was designed by the architect Finn Bryn, and the building seats about 300 people. The church and the organ was a gift of people of Denmark. It was also the first church that was rebuilt in Finnmark county after the war. It was intended that it should have a 16-voice organ. But the money was not enough to make the organ that large, so it had only six stops and no pedalwerk. It was enough for church services, but not for organ concerts. Nearly 60 years later the local music forces started the process of collecting money for the extension of the instrument. They have saved the original drawings from 1949 performed by the organ builder company Frobenius. The goal was that the organ is to be extended to 16 stops plus pedal mechanisms. So Frobenius built an extension to the old Verk Positive so finally the church got the concert capable organ.
The new part of the organ was designed by Kim Nielsen at Frobenius and voiced by Ole W. Høyer in the church in November of 2013. The church and the local cultural leaders of the town soon arranged musical events in around the new organ, invited German, Danish organists, and musicians from other countries also.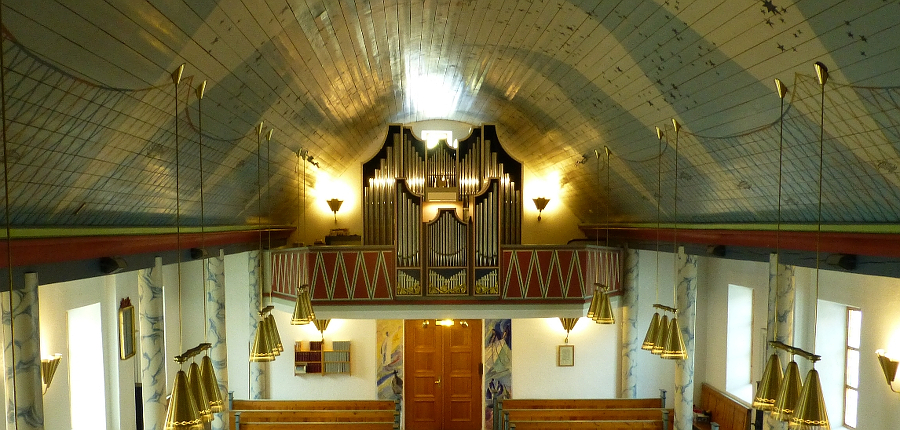 The picture was taken during the intonation in 2013







Inside the old Verk Positive

In the back, inside, the Pedalverk during the
intonation

Freshly installed reed pipes

From our archive - Pictures from Kjøllefjord 1951 by Erik Frobenius

| | | | | |
| --- | --- | --- | --- | --- |
| Back to Home | | Go to Top | | New Instruments |